Color LCD Screen Zinc-Oxide Arrester Leakage Current Tester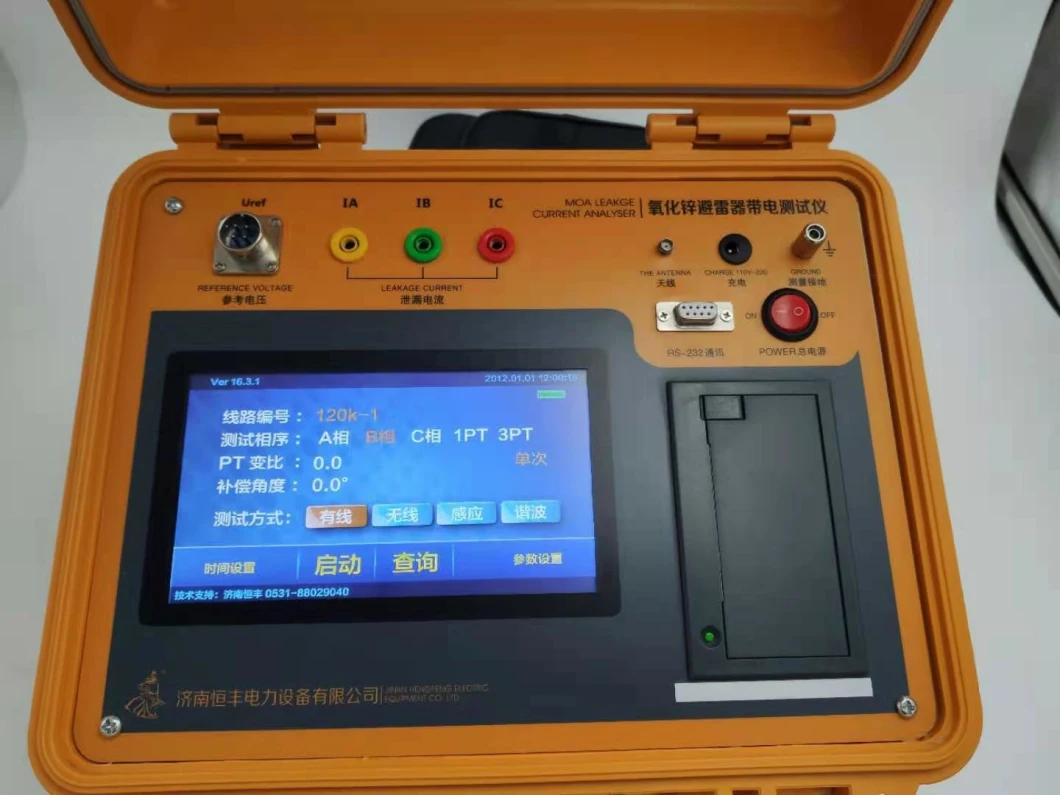 Product introduction
The instrument is used for detection of different voltage levels Zinc Oxide arresters power on or off. The inner damping, valve aging and other dangerous defects will be found timely. The instrument can test the full current, resistive current and harmonic, 50HZ reference voltage and harmonic, active power and phase difference of the ZnO arrester. The real waveform can display on the large screen.
Adopted digital waveform analysis technology, harmonic analysis and digital filter software, the instrument can accurately measure the content of principle wave and 3-7 times harmonic. Also it can measure the resistive current avoiding the interference of interphase.
Features:
1. Wireless transmission PT signal more than 1000 meters
2. Suitable for arrester live , off power or lab
3. Three-phase current, three-phase voltage test at same time, more efficient;
4. Two kinds of sampling method of voltage reference signal: wired synchronism and wireless synchronism
5. Anti-jamming performance, high accuracy.
6. 7'color LCD touch screen, high speed thermal printer, display of graph and test, nice operational interface.
7 Big capacity Lithium battery, portable design
8. Equipped with bluetooth interface, many protocols to access to the internet.
9. Supporting PC management software, with historical data management, data analysis, report printing and other functions.
Technical specification
Measurement range

0-20mA

Voltage

(peak) 30-120V (more than 120V can be customized)

Total leakage current accuracy

± (reading × 2% + 1 figure)

Resistive current fundamental measurement accuracy

± (reading × 5% + 1 figure)

Current harmonic measurement accuracy

± (reading × 10% +10 uA)

Reference voltage input range

25V ~ 120V RMS (more than 120V can be customized)

Reference voltage measurement accuracy

± (reading × 2% + 1figure)

Voltage harmonic measurement accuracy

± (reading × 10%)

Measurement parameters

Leakage current full current waveform, fundamental RMS, peak value

Three-phase voltage full voltage waveform, RMS and 3,5,7 harmonic content.

Leakage current resistive component of the fundamental RMS and 3,5,7 RMS

Capacitive current fundamental, full voltage, full current phase angle difference.

Voltage Reference Signal Sampling Method

Wired synchronism

40 meters (expandable).

Wireless synchronism

800 meters (antenna height of 1.5 meters, open visual distance).