color powder iron oxide,iron oxide powder 110 130 190
Iron oxides are widespread in nature, play an important role in many geological and biological processes, and are widely used by humans, e.g., as

pigment

,

catalysts

, in

thermite

(see the diagram) and

hemoglobin

. Common

rust

is a form of

iron(III) oxide

. Iron oxides are widely used as inexpensive, durable pigments in paints, coatings and colored concretes. Colors commonly available are in the "earthy" end of the yellow/orange/red/brown/black range.



Basic spec:
Iron oxide
Colors: Red/Yellow/Black/Brown/Orange/Blue/Green
Molecular Formula: Fe2O3
Density:

5.24 g/cm³


CAS No.: 1332-37-2
Melting Point: 1565ºC
Boiling Point: 3414 °C
Ty

pe

Fe2O3

Oil

Res. On

Moisture

Tinting

Fe3O4

Absorption

325 mesh

Strength

Iron Oxide Red110

96 min

15-25

0.3 max

1.0 max

98-102

Iron Oxide Red 130

96 min

15-25

0.3 max

1.0 max

98-102

Iron Oxide Red 190

96 min

5-25

0.3 max

1.0 max

98-102

Iron Oxide Yellow 313

86 min

25-35

0.3 max

1.0 max

98-102

Iron Oxide Black330

92 min

15-25

0.4 max

1.0 max

98-102

Iron Oxide Blue

25-35

0.5 max

1.0 max

98-102

Iron Oxide brown

90min

20-35

0.3max

1.0max

98-102

Iron Oxide green

96min

35max

0.5max

1.0max

95-105

Iron oxide orange

90min

20-30

0.2max

1.0max

95-105
Packing: 25 kg/ PP bag, or 25kg/ paper bag
17-25 Tons per 20'GP (different according to different colors)
Delivery: 3-7 days
Product Picture: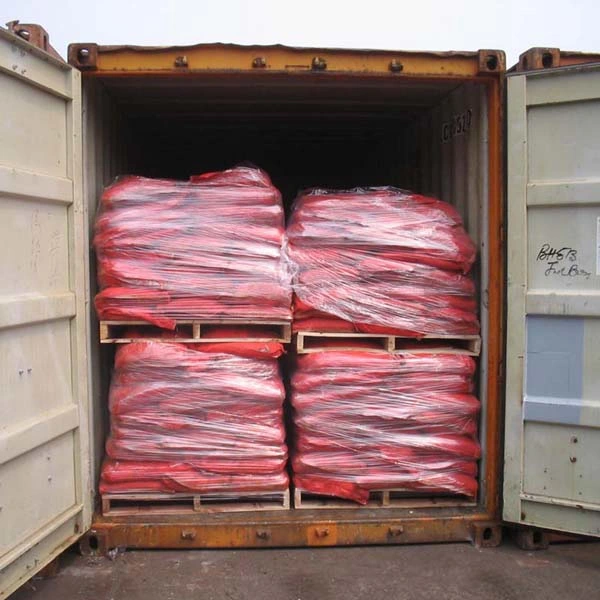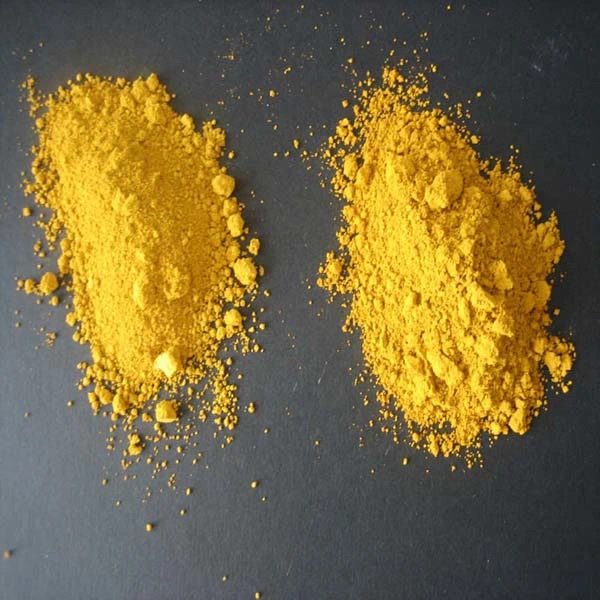 Packing and Deliery: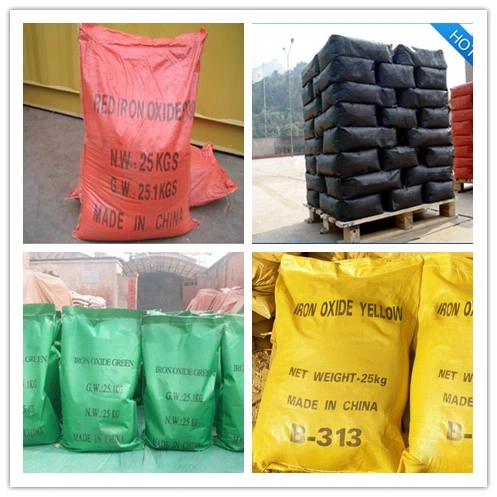 Applications:
PAINTS
Iron Oxide Red/Yellow/Orange are extensively used as Pigment in all kinds of decorative and industrial paints. High strength, excellent dispersibility and excellent colour stability makes them ideal for use in all kinds of paints under extreme weather and atmospheric conditions. Several different grades are available to obtain different hues of Red, Yellow & Orange.

FLOORING COLOURS
Use of coloured flooring and mosaic flooring is prevalent in several parts of China. In fact mosaic flooring is coming back in fashion these days and skilled masons for the job are hard to find.

TILES
They are used to colour Paver Blocks, Designer Tiles, Roofing Tiles etc. due to their long-lasting colour intensity, resistance to UV rays and weathering resistance. Vibrant shades bring life to individual designs at homes, public places and workplaces.
PLASTIC MASTERBATCHES
Our Synthetic Iron Oxide is heat stable and hence ideal for use in the preparation of colour master batches for the plastic industry. They also disperse very fast and do not migrate.

LEATHER COLOURANTS
Synthetic Red & Yellow Iron Oxides are used extensively for preparation of leather colourants. Our pigments are totally free from heavy metals and hence preferred by the industry.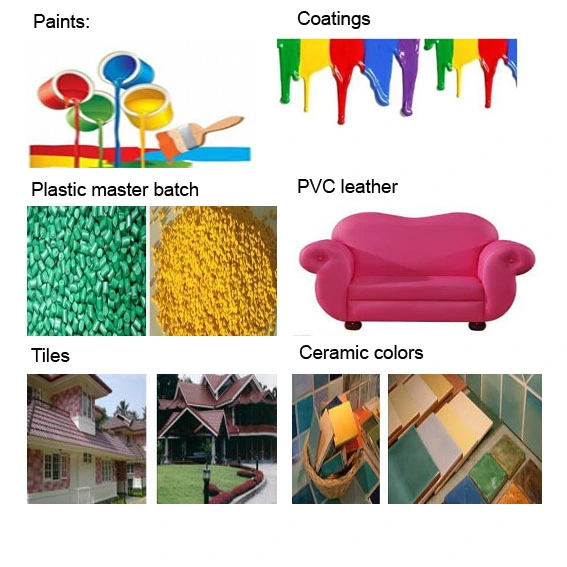 FAQ:
1.Why should you choose us?
Many years experience in chemical industry
Quick and positive reply after receiving your inquiry
Free sample
Quality control before and during shipment
Packing according to your requirement
Quick shipping and short voyage
High quality with competitive price

2.What's your payment terms?
T/T, L/C west union, according to customer's request.
Any payment can be negotiated.
3. How about your delivery?
Usually 3-10 days after down payment or after receiving original L/C
4. Which contries have your exported?
We exported to countries all over the world, such as Canada, Russia, Malaysia, India, Sri Lanka, Brazil,
The United Arab Emirates, Thailand etc.

Qualification and Certification:
SGS ,ISO

Related Products:
Zinc Oxide
Titanium Dioxide
chrome green


Our Contacts:
Susan

ZHENGZHOU SAN TECHCHEM CO., LTD.
NO.101/115 NANYANG ROAD, ZHENGZHOU, HENAN,CHINA
TEL:0371-0086112765 FAX:0371-0086116272